CMAS * (one star) SCUBA Diver is an entry level diving certification issued by the Confédération Mondiale des Activités Subaquatiques (CMAS).
The CMAS * SCUBA Diver course can vary somewhat between different locations, but have the following minimum requirements:
385 minutes of theory lessons (6 hours and 25 minutes)
480 minutes of practical lessons (8 hours)
Five open water dives
After the course, a CMAS * SCUBA certificate holder should be ready to engage in open water scuba diving in the company of an experienced scuba diver.
The CMAS * SCUBA certificate is for scuba diving down to 20 meters.
Specialty diving, such as night diving, cave diving or wreck diving is not included in the course.
Where can I get certified?
CMAS * SCUBA Diver courses are available from two sources:
Dive schools that are accredited by the CMAS. These schools, known as CMAS Dive Centers, use dedicated CMAS training materials and are allowed to issue CMAS diving certificates.
Local dive clubs or instructors that belong to a national diving federation affiliated to the CMAS Technical Committee. These national diving federations, commonly referred to as CMAS Federations, exist in a large number of countries around the world where scuba diving is carried out. Sometimes they enter into agreements with independent underwater training organizations that provide the course.
Course elements
The CMAS * SCUBA course includes both theoretical and practical elements. The theoretical parts includes things such as how to select, use and care for basic scuba diving equipment, the mechanisms of respiration and circulation, diving physics, diving signals, diving procedures, planning and preparation, selection of dive sites, conservation, accident prevention, rescue and first aid, and emergency ascent.
Examples of practical skills that you will learn during the course:
Snorkeling
Swimming with scuba equipment
Clearing and replacing the scuba mask
Clearing and replacing the mouth piece
Using a secondary air supply
Buoyancy control
Water entry and water exit
Assembly and fitting of scuba equipment
Rescue, including a controlled buoyant lift, towing and landing
First aid
The course can be tailored to fit local conditions, and individual CMAS Federations can have higher requirements for their entry-level diving certificate than the basic CMAS requirements. CMAS Federations in the Nordic region will for instance only award a CMAS* Nordic SCUBA Diver certificate to divers that have undergone a more extensive course than the basic CMAS * SCUBA. The Nordic course includes six open water dives instead of five, and the diver will be required to learn about and carry out cold water diving.
Further education and training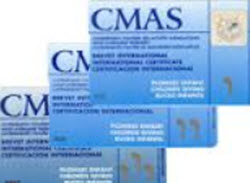 When you have received your CMAS * (one star) SCUBA Diver Certificate you can proceed to the next level. There are four levels in total for the CMAS Recreational Diver Training Programs:
One Star Diver – CMAS * SCUBA Diver
Two Star Diver – CMAS ** SCUBA Diver
Three Star Diver – CMAS *** SCUBA Diver
Four Star Diver – CMAS **** SCUBA Diver
In addition to this there are plenty of Specialty Diver Training Programs for recreational divers, Technical Diver Training Programs, Leadership Diver Training Programs, and Instructor Speciality Grades.
About Confédération Mondiale des Activités Subaquatiques (CMAS)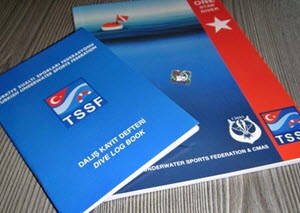 Confédération Mondiale des Activités Subaquatiques (CMAS) is an international federation based in Rome. The federation have several different branches and is involved in anything from underwater sports and underwater science to overseeing their own system of recreational snorkel and scuba diver training and certification. The federation was founded in Monaco in 1959 and is one of the oldest underwater diving organization.
The federation has three official languages; French, English and Spanish. Although its French name is the one most widely used, the federation is also known as the World Underwater Federation (in English) and Confederacion Mundial De Actividades Subacuaticas (in Spanish).
Foundation
Confédération Mondiale des Activités Subaquatiques (CMAS) was established in Monaco in January 1959. The year before, and international congress of diving federations had met in Brussels, where a decision was made to form an international underwater federation. As a result, a meeting was held in Monaco in January where the federation was officially formed.
One of the driving forces behind the formation of CMAS was the illustrious French underwater explorer Jacques-Yves Cousteau. He became CMAS first President, with Italian underwater pioneer Luigi Ferraro as Vice-President.
Organization
CMAS consists of three major committees: Sport. Technical and Scientific. It is the Technical committee that is responsible for CMAS snorkeling and scuba diving courses and certificates.
For more information, visit www.cmas.org.