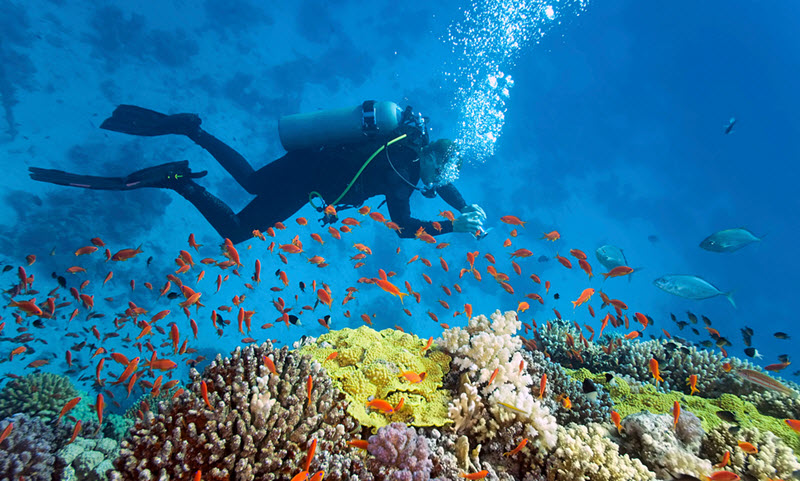 Located in the warm Caribbean Sea, Bahamas is a great year round dive destination outside the hurricane season. It is an island nation comprised of approximately 700 islands scattered between Cuba and Florida, USA. Only 30 of the islands are inhabited, and a majority of the nation's population is gathered on just two of them: Grand Bahama and New Providence.
The water temperature is at its lowest in January – February where the average temp is 22 degrees C. The water temperature will then gradually increase as the year proceeds. By June, the average temperature is 26°C, and in August the average is 26°C. In September, the temperature starts to go down again, but it is still 26°C in November and 24°C in December.
A few examples of interesting dive sites in Bahamas
Andros Wall and the Great Blue Hole
The waters off the island of Andros have a lot to offer, including a wall that starts 21 meters down. Exploring the various paths is only recommended for experienced divers.
The Great Blue Hole near Andros is one of the deepest blue holes in Bahamas, and includes the mesmerizing Sky Light Room and the dangerously deep Big Room. You'll find the entrance 12 meters down.
Vicky's Reef and Hole in the Wall
The beautiful Vicky's Reef, located off San Salvador, is home to a profusion of pretty marine life, including black coral trees and colorful sponge corals.
Hole in the Wall is a 30 meter wide hole in a coral encrusted wall off San Salvador. It continues approximately 45 meters into the wall. The opening is decorated with soft corals.
Littlehale's Lairs
Littlehale's Lairs is two small lairs named after nature photographer Bates Littlehale. Both lairs are popular hangout spots for snappers.
The Coral Caverns of Green Turtle Cay
The Coral Caverns in Green Turtle Cay are tall coral formations creating an impressive underwater landscape. These waters are frequented by large schools of silversides.
Wreck diving opportunities
Reefs & Hurricanes – the perilous waters of Bahamas
Many ships have found their final resting spot in the waters of Bahamas, and some of them have even been deliberately sunk to create habitats for marine wildlife.
One of the ships not deliberately sunk is the 4-masted sailing ship loaded with sugar that encountered a hurricane and sank west of Grand Bahama in the late 19th century. She is now simply known as Sugar Wreck, and she is easy to reach – the depth is no more than six meters.
Another ship wrecked by a hurricane in Bahamas is Sapona. The strong winds made her run aground at Turtle Rocks Reef near Bimini. At this spot the water is really shallow, and parts of Sapona still protrudes above the water.
The wrecks at Devil's Backbone
The ominously named Devil's Backbone outside Eleuthera is a veritable graveyard for ship, so if you want to have several wrecks to explore within a small area, this is the place to go. One of them is called Train Wreck, because it was carrying a steam locomotive.
James Bond wrecks
Not just one but two wrecks in the Bahamas can be seen in James Bond movies.
Tears of Allah is in Never Say Never Again.
Vulcan Bomber is in Thunderball.
Comberbach – suitable for wreck diving beginners
Comberbach is a 34 meter long British cargo ship. Among other things, it is loaded with a 1975 Ford. Comberbach was sunk to provide a home for marine wildlife.
If you are attending a wreck diving course in Bahamas, you are likely to be taken to the Comberbach wreck during one of your first classes, because this wreck is highly suitable for beginners. It has been deliberately opened up to make it safer for inexperienced wreck divers.
Sharks
Want to see sharks in Bahamas? The sharks go where the please, of course, but some spots are more popular than others. One such spot is Current Cut, a passage between Current Island and Eleuthera where the sharks appreciate the powerful current. Only recommended for divers with experience.
Shark Rodeo at Walker's Cay, Abacos, is a feeding station where the sharks have grown accustomed to receive food from humans. The sharks, especially Carcharhinus limbatus, hang out at the sandy bottom at a depth of approximately 11 meters.
Shark Buoy attracts sharks without the lure of food. The Silky Sharks are especially fond of this yellow buoy.