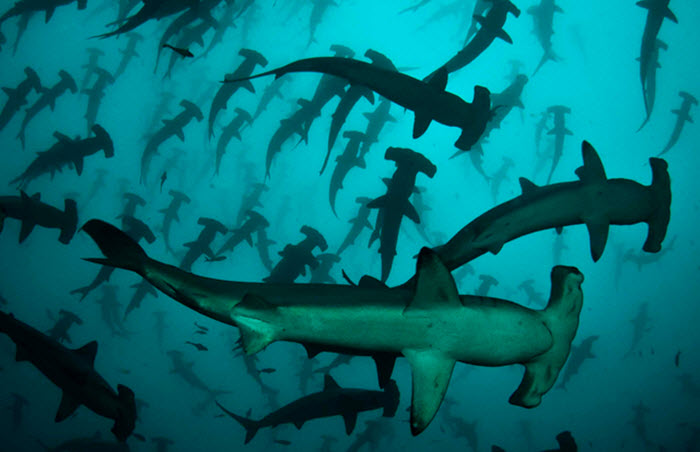 Costa Rica has a remote island off the mainland, located in the Golden Triangle. It is Cocos Island and it is a scuba diving destination for all levels of divers from all over the world. Because all of the dive sites at Cocos Island are in close proximity to one another, they make it ideal for divers.
Liveaboard diving is popular at Cocos, due to about 20 dive sites, all close together and close to the island. There are shallow drift dives and extremely deep dives over 130 feet.
Cocos was declared a marine national park in 1978, a World Heritage site by UNESCO in 1997, making it a protected area and preserved for divers to enjoy all its natural beauty. Covered in tropical rainforest, the island is basically a volcanic seamount. It is exceptionally beautiful, with views that are movie worthy. It was featured in Jurassic Park, displaying uninhabited tropical rainforest with an intact, untouched ecosystem. The marine life and island wildlife are virtually undisturbed.
Groups of scalloped hammerhead sharks are the main attraction at Cocos and at times you will see hundreds while diving. There are also whitetip reef sharks and the silky, tiger and silver tip sharks. You will also see an occasional blacktip shark. The manta, eagle, marble and mobula rays are also in full view most of the time.
Some of the more popular dive spots are Dirty Rock and Bajo Alcyone. Dirty Rock is more challenging with boulders and pinnacles for the divers to maneuver, among them swim the hammerhead sharks. There are a plethora of marble rays and an occasional whale shark.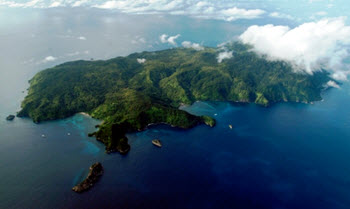 Bajo Alcyone is tops of the diving spots where, yet again, the amount of hammerhead sharks to see is staggering. There are a lot of rays, manta and moguls, swimming around the sharks alongside the cliffs. The volcanic walls of these dives often have moray eels weaving in and out, among the tropical fish.
Cocos, being mostly popular for its vast quantities of large marine animals, is a pelagic paradise. The chance is high there to see tuna, billfish and wahoo. It is not a great place for coral or reef life, as the cliffs of the volcanic island underwater are steep, yielding mostly prolific quantities of sharks.
Although all divers of all levels of expertise will enjoy Cocos Island, it should be noted that the island is prone to large swells of water, deep (more than 100 feet) waters, strong currents, Galapagos sharks (which can be aggressive) and low visibility.
Cleaning stations are popular for the divers to watch and really quite entertaining. This is where a larger fish, typically hammerheads, where angelfish and butterflyfish gather. Most divers find a place to hide like a rock and control their exhaust, becoming blue divers by holding their breath, so as not to scare off the sharks. For many divers, Cocos Island is the pinnacle of their experience, being memorable and difficult.
It is an enchanting, untouched island, both above and below the water.