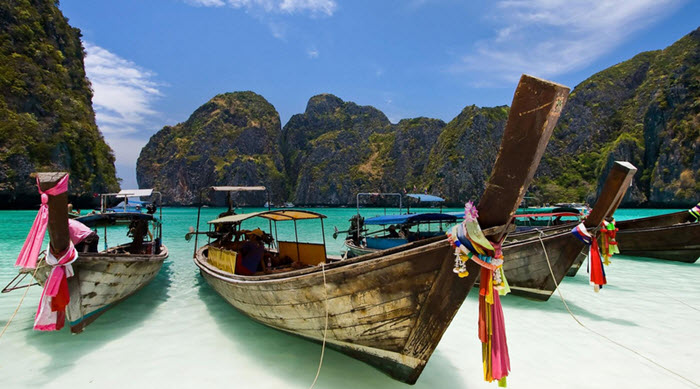 It is no secret that diving in Asia is a favorite among experienced divers. Some of Asia's best dive sites are in Thailand, where the gorgeous weather, friendly people and hospitable conditions make for a memorable trip. Spend a few days diving, in addition to time touring the land and a trip to the country is more complete.
Divers seek out some of the world-renowned dive sites, most of which are found off the west coast, like the Similan Islands. This is where the best of Thailand diving can be found. Richelieu Rock, Hin Daeng and Hin Muang are all there as well, and are national parks, protected and offering some of the most amazing marine life.
The protected area of the Similan Islands is a grouping of 9 tiny islands. Liveaboard boats motor around the islands, stopping for divers to enjoy the fish. Leopard sharks, snappers, barracudas, batfish and moray eels, just to name a few, swarm the waters.
Richelieu Rock, discovered by Jacques-Yves Cousteau, is in the Andaman Sea lying between the Similan Islands and the Surin Islands. It is a popular place for whale shark safaris an liveaboard boats to travel and considered to be Thailand's most iconic dive site. The entire reef is actually shaped like a horse shoe.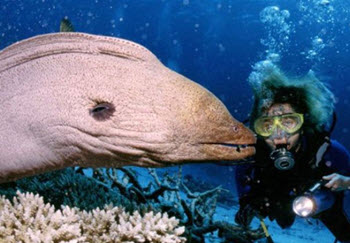 A large number of filter feeders like manta rays and whale sharks are always found there, along with pelagic fish like snappers, bannerfish and lion fish. The amazing thing about the reef is that it is also home to the smallest off reef creatures like pineapple fish, orangutan crab, sea horses and harlequin shrimp. There is a great variety of sea life found there.
Most diving in Thailand is done by liveaboard. Divers pay for the cruise boats to take them to many of the islands over the course of several days. Some of the other island dive destinations are Phuket, Koh Ha-Koh Rok, Hin Daeng and Hin Muang, Khao Lak and Koh Samui.
Hin Daeng (Red Rock) and Hin Muang (Purple Rock) are two pinnacles away from Thailand mainland and full of manta rays, whale sharks and an incredible amount of fish. It is truly breathtaking to see the variety and amount of sea life here.
Despite the fact that Thailand's diving season is year-round, it is best for diving conditions in the months of November through April. It is not only the best time for the most liveaboards to be running, but it is also peak time for seeing whale sharks. From May through October, visibility is not the best. This is the best time of the year for the Gulf of Thailand.
In this area, Koh Tao is, although usually crowded, a great place with clear waters. The Gulf of Thailand has 10 marine parks.
Thailand truly has something to offer every level of experienced diver. There is also just about every type of underwater rock and reef formation like pinnacles, caves, drifts, and swim-throughs to see within the island chains or off the coast of the mainland.