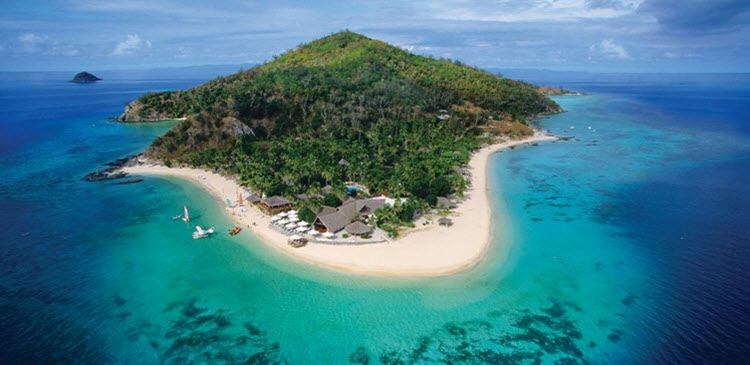 There is another world teaming with tropical fish of most known varieties, sparkling green waters and abounding corals in many colors. It is the world of underwater Fiji and it is magnificent.
Fiji is an island country in Melanesia in the South Pacific Ocean. It is basically a network of coral reefs, connecting over 300 islands and atolls. This makes for an exceptionally beautiful, vibrant, active marine world just off the shore for divers.
Many Reefs
Inside the Malolo Barrier Reef, there is much to see, and one could spend all of their time there with little complaint. The Supermarket, one of the most famous dive spots, offers grey reef sharks, white tip reef sharks, and black tip reef sharks all at once. Divers can also see barracuda, bannerfish, surgeonfish, groupers, red bass snappers and, sea turtles. It is no secret why it is called the Supermarket, and is said to be one of the most exciting places to see such a large quantity of dangerous marine life.
In the reef, there is also a B26 Bomber to see, that is an old crash broken up and scattered across the ocean floor. Although the entire crew of the plane perished, there are no remains to be seen, only plane engine and plane body parts.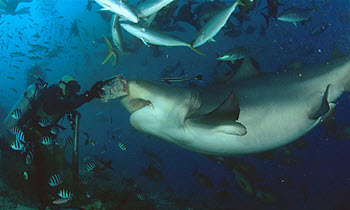 Jackie's Reef, Tui's Reef, Ronnies Reef and Vomo Island are also dive spots on the Malolo Barrier Reef with lots of marine and coral life. The Salamanca Shipwreck was a cruise ship purposely sunk and covered in soft corals and anemones. It is a photographer's paradise.
Plantation Pinnacles, Bird Rock, North Rock, and Coral Gardens are all four beautiful spots at Malolo Barrier Reef where a diver can see lots of barracuda, vibrant coral colors, and teaming tropical fish. In fact, one of the most photographed places is Plantation Pinnacles, with its large population of clown fish.
Gotham City is another dive located in a passage in the outer Barrier Reef where three pinnacles sit. There are always strangely beautiful corals of every imaginable color. Namosi Wall provides an exceptionally stunning view of coral where it sits on the edge of a cliff, staring into the abyss of the Pacific Ocean. The fish are numerous, with sharks, turtles and barracuda and great visibility, too.
Barrel Head is a large pinnacle full of hard corals and sharks and turtles. This is one of those sites that can be surprising with yellow fin tuna and other unexpected groups of fish. Castaway Passage is in a gap in the Barrier Reef and home to a large lagoon. It is a dive spot where the visibility is always among the top spots and full of surprises, like marlin, sharks, and manta rays.
With the waters being warm and visibility being excellent, there are few downsides to scuba diving trips in the waters of Fiji, except maybe the underwater cliffs. The level of difficulty of the dives is all over the map, from expert-level ability, all the way down to dives for children, providing fun and memories for everyone in your group.