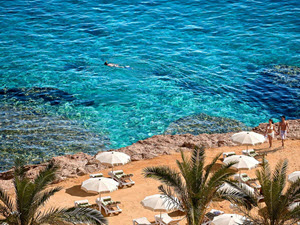 Hurghada is a popular tourist destination among British vacationers. Hurghada is located in Egypt on the African side of the Red Sea. The city has been built as a tourist destinations. There are regular ferries between Hurghada and Egypts other popular tourist destination Sharm El Sheikh. Both destinations offer excellent diving
Hurghada is a cheap destination that offers great value for your money. The destination offers cheap hotels and cheap diving. The city also offers high class hotels and restaurants for those who prefer a more exclusive experience,
The city is located right on the edge of the red sea and offer excellent access to the Red Sea and all the great diving that the Red Sea can offer. The red sea is home to a lot of endemic species, great dive sites and historical wrecks such as the thistlegorm.
Hurghada is also located close to Cairo which makes it easy to go on a day trip to see the sphinx and the pyramids.
Getting there
It is very easy to get to Hurghada. The charter companies offer a large selection of different trips. They also offer add on trips to Luxor and Cairo for all those who want to experience some of the history that Egypt has to offer. Charter trips are very convenient since they include both flights and hotel. You can focus on planing your diving. Hurghada and Egypt is one of the cheapest destinations for charter trips and a god choice for those on a limited budget.
It also possible to book a regular air ticket to Hurghada.
Finding a
It is very easy to find a dive shop in Hurghada. There are several different to chose from. You do not have to book your diving experience in advance. It is always possible to walk into the dive shops and book a diving trip for the very next day. If you visit them early enough you can book one for the same day. To do this you have to arrive before the dive boat cast off in the morning.
If you prefer to book your diving experience in advance you can do that to. Many of the dive shops have websites and answer emails quickly. Some will accept your reservation without a deposit while other will require a deposit.
It is very cheap to get scuba diving certified in Egypt. You can usually become certified in 3 days. This means that you can get certified on a week long vacation and still have time to rest on the beach and visit the pyramids in Cairo.
Aquatic Wildlife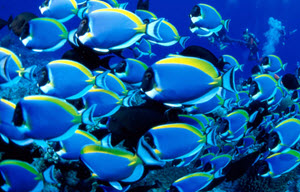 The Red Sea offer a very large and colorful wildlife. Exactly what you will see depends on the time of year. During the summer when the water is warm you will be able to spot a lot of Sharks and Large Rays. These are more uncommon sights during the winter. During this time of the year you will have to settle with the wildlife that stay on the reef all year around. This includes a lot of red sea bass, wrasses, angelfish, emperor fish, and other well known reef fish. It is also very common to see large morays, lion fish and barracudas. It is not uncommon to see 66 ft barracudas. Blue spotted rays are very common in the waters around Hurghada.
With a little bit of luck you can also spot and be able to dive with sea turtles and Dolphins. Your chances to spot dolphins during a week of diving are about 50% and your chance to see sea turtles is about 75% .
Other things to do
You are not going to spend all your time in the water. It can therefore be good to know about some of the other things you can do in Hurghada. You can as earlier mentioned choose to go to Cairo to visit the pyramids or to Luxor and visit the famous temple. You can also choose to go on a cruise on the Nile. All these things require a day or more and is not suitable if you are looking for something to do after a day of diving.
In this case you might want to choose to visit one of the many restaurants in the area. There are many good restaurants but also many cheap ones with  simple food. If you want something more exciting to do you can choose to visit Hurghada casino. Hurghada casino is located near one end of Hurghada and depending on where you live it can be a 20 minute taxi ride to get there. The casino is located near the tax free shop where you as a foreigner can buy alcohol.
The casino require you to be at least 18 years old and able to show valid ID (passport) to enter. They often make exceptions from their rules if you forgot you passport but there is not guarantee that they will. It is therefor important that you remember to bring your passport. The casino offer a rather small amount of different games and a decently stocked bar. Among the games you can play in the casino you find Black Jack, Roulette and Caribbean stud poker as well as a number of different slot machines. The house rules are adjusted to give a slightly higher house edge than that found in most international casinos. (The information about casinos in Hurghada is based on information from casinon.eu. The rest of the information in this article is based on personal experience.)
Hurghada also offers a lot of shows. The shows are often held in hotels. As an example it can be mentioned that many hotels offer belly dancing shows. More exclusive hotels offer daily entertainment.
There are a large selection of hookah bars that you can visit.