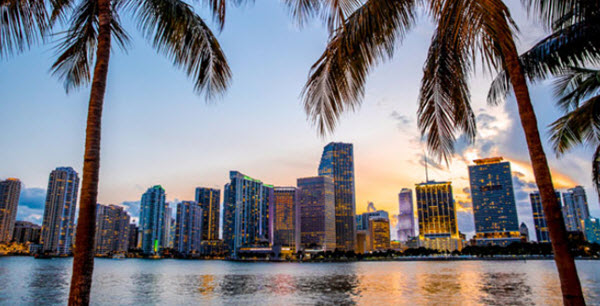 Located in the United States of America, South Florida is host to a tropical paradise called the city of Miami. Known for its exceptional standard of living and tourism, it is a destination for travellers all over the world. It just so happens to be a wonderful dive destination, boasting one of the best places in Florida.
Diving in Miami is surprisingly, unexpectedly interesting. Although Miami is located on the Continental United States, it's beaches are actually a barrier island made of ancient limestone coral rock. Much of Florida is limestone, but this is different because it is able to be seen underwater.
As the Atlantic Ocean's waves hit the shore, lapping over and over against the white sand, it continues to shape the Florida Straits. This happens to be the third largest barrier reef in the world, extending all the way to the Florida Keys, providing a mammoth amount of dive sites for seeing a vast array of underwater marine life.
Miami's dive sites offer coral shelves, patch reefs and several wreck dives, some of which are Brewster Reef and Car Frame Reef, full of spiny lobsters. Cuban Freighter Reef is where old wreckage from a Cuban freighter was dropped. This was before dumping laws were instituted, giving it a nice home for yet more spiney lobsters.
Miami is a great place to dive due to the interesting dives located so close to all the luxuries of Miami beach.  You can combine a beach, city and dive vacation into one singel trip.  You can dive in the morning, go on a casino cruise in the afternoon and be back in town to eat a fantastic dinner.  Gambling is not allowed in Miami so you will have to take a cruise out in international waters to gamble.  Another option if you want to gamble is to visit one of the Indian casinos outside Miami such as the Miccosukee Resort & Gaming. You can usually win larger jackpots in the indian casinons than you can on the casino cruises.
Darrel's Ledge
Darrel's Ledge is a reef, quite high in profile, with two sections. It offers several different types of coral and a drop off of about 40 feet. Deep Trench is another great relic from the old days of dumping, actually from the 1920's. This was where an old pipe for discharge was laid, of course, not in use anymore. Divers can see lots of lobster, eel and sharks.
Epcot Divequest
Something out of the ordinary for divers is offered by Disney here off the shores of Miami. Epcot Divequest is a unique experience, where the Living Seas Pavilion, a six-million-gallon indoor aquarium with an abundance of sea life and colourful tropical fish, resides. Divers here experience the most amazing display of contained sea life possibly in the world. It truly is amazing with almost unlimited visibility.
Flamingo Reef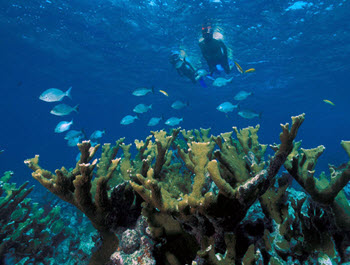 Flamingo Reef is another beautiful dive with standing elkhorn coral resembling flamingos. Graceland reef is a place where there are small caverns underneath the ledge that formed from a broken plate reef. It is home to tropical fish, nurse sharks, and copper sweepers. It is a darkly lit place to dive, so bring a flashlight.
Gulf stream
Miami is close to the Gulf Stream, so the warm clear blue water is always in large supply. It lends itself to being a great place for natural and man-made reefs. In fact, Miami is known for being home to some of the best artificial reef programs in the world, using construction forms creatively to form homes for the marine life.
Miami is a little pricey and so are most of the dive packages. But diving is not for the cheap or tight-fisted, anyway. And don't forget that there are few places, where divers can look up above the water and view such a magnificent skyline.